Cebeci Group specializes in the construction of living, commercial and touristic projects. These include flats, apartments, villas, commercial premises and hotels.By this moment 4000 apartments and 2 hotels were constructed by the company in different areas of Alanya.
One of the last projects Azura Park is a unique residence having no counterparts in the Mediterranean region. Recently Cebeci Group completed the construction of two new projects Alanya Calista Premium and Sfera Residence that appear to be luxury apartments with rich social area located right on the sea side.
Besides that Cebeci Group has built a luxury 5-star hotel Azura Deluxe Resort and Spa that opened its doors in May 2015.
Recruiting experienced professionals Cebeci Group provides a complex of services in real estate management. It guarantees the best service and high quality.
Why Cebeci Group?
Perfect match of quality and price
Inspection trip
Client service on all steps of deal (residence, credits, TAPU deeds, bank accounts)
After sale service and maintenance support
Flexibility and professionalis
---
Related Documents

Company Profile
Download file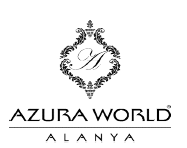 Azura World
Azura World, Turkey's largest Residence & Hotel & Entertainment concept project, in the most beautiful location of Alanya, on its own land and with its own resources becomes the symbolic project as a result of the 40 years of experience of Cebeci Group A.Ş.
Goto Project
---